See attached:
Here are the details as emailed to me from the doc.
Participants can either be diagnosed with ADHD or ADD or have symptoms and need to be evaluated.
The medication is a long acting methylphenidate product (same as Ritalin or Concerta) but it lasts all day and into the evening

so it should be very helpful for people who need coverage from morning to night. It would be especially good for college kids (rather than giving them short acting stimulants that are more likely to be abused) or for men and women who need longer coverage during the day. Methylphenidate is FDA approved for ADHD but this formulation of methylphenidate is being studied because of the unique delivery system.
Participants will receive a very extensive evaluation and testing (that is above and beyond what is done in ADHD clinics) and includes a physical, labs, IQ testing, SCID-5-CT diagnostic interview, tests of concentration and accuracy levels, and lots of rating scales, etc. plus observation by trained clinicians and raters during the visits.
There are 2 simulated workplace days (held on Saturdays-one half day and one long day) in which their symptoms will be assessed throughout the day by trained clinicians and raters (and on the long day into the evening). They will play group games that are fun and then take a 10 minute math test to assess their concentration and accuracy multiple times during those days. The math tests are just addition and subtraction and are adjusted to the person's ability and comfort level. We make the days fun. Most people enjoy the day and interacting with staff and other people their age with ADHD. We provide breakfast, lunch, snacks and drinks (and dinner on the long day) on the Saturday visits. Anyone who wants to stay at a local hotel, so they don't have to drive far in the morning, will be provided with a hotel room on the Friday night before the 2 Saturday visits. All medications and study visits are free of charge.
They will be reimbursed $1125.00 for their time.
Anyone interested must meet the following criteria to participate:
Be 18-60 years old,

have no MAJOR medical problems such as high blood pressure or heart problems, etc.

Be able to come to the clinic weekly for 8 visits, then come to a classroom/conference room site for 2 Saturdays (one half day and one long day).

Be able to take simple addition and subtraction (10 minute) math tests.

have no Major CURRENT psychiatric diagnosis (MDD, anxiety, etc in past is fine as long as it isn't very impairing currently). Schizophrenia is an exclusion.

not be on any other psychotropic drugs, other than ADHD medication during the study.
It's ok if they are on an ADHD medication but they need to be willing to switch to the study medication (a methylphenidate compound with a longer duration of action) during the trial which is 10 weeks.
Participants will all be on the actual study drug throughout the trial but during the last week of the study, 50% will be on a placebo for 7 days.
If you have someone who is interested, please have them call 781-837-8833 as soon as possible or you can send me their name and phone # and I will have someone call them right away.
**I will send the IRB approved advertisement/flyer as soon as I have the phone number updated on it. Jodi's number is on it and she is out on maternity leave.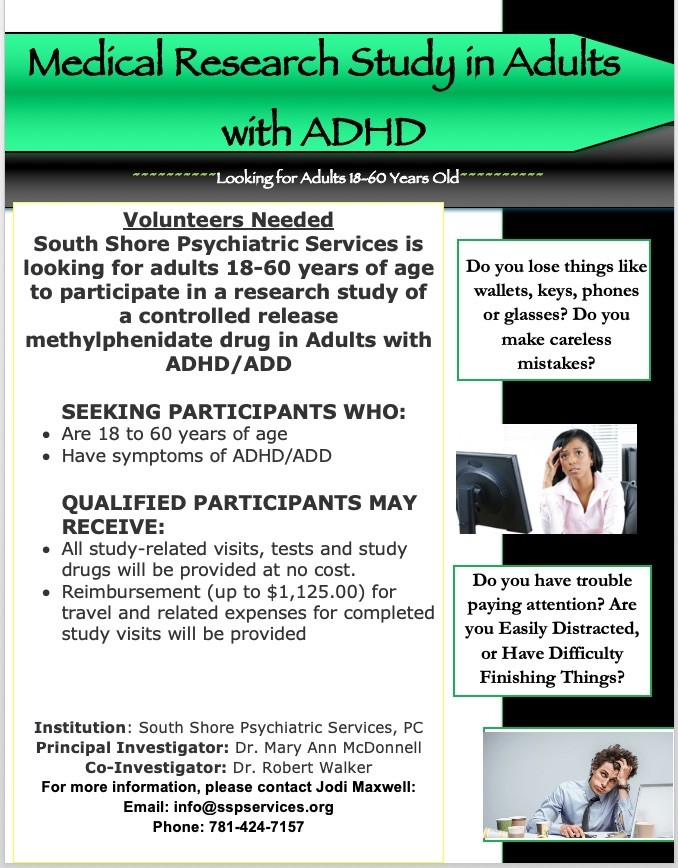 "